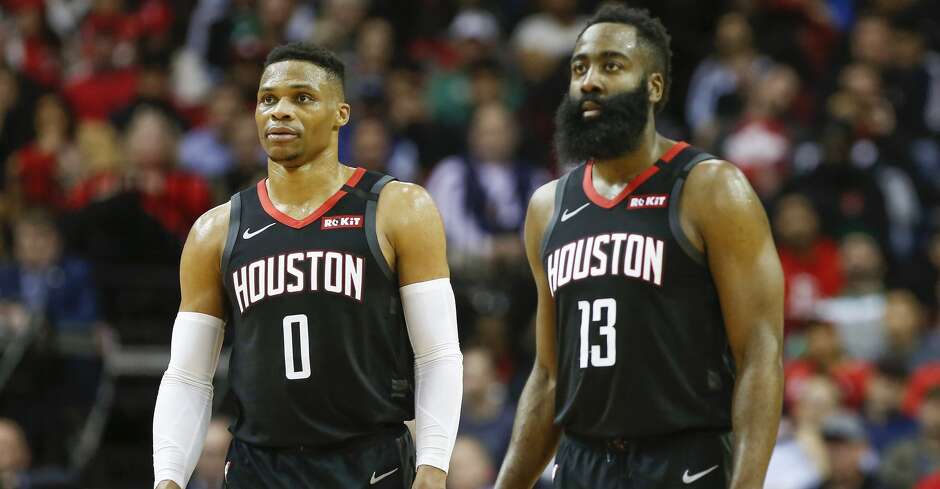 Article written by Shaun Shaikh (@sports_shaun)
---
In the 2020 playoffs, the Houston Rockets have won every single game that the Rockets won the minutes with Harden off of the court. Conversely, the Rockets are 1-4 when they lose those minutes.
The non-Harden minutes have been the most important litmus test for the Rockets winning and losing, since so much of the team's offense revolve around Harden's unique ability to be a one-man offense, creating good looks through his individual brilliance with the ball in his hands.
Debates have broken out on Rockets Twitter about what is the best way to deploy Westbrook. I have been vocally on the side of not staggering Westbrook and Harden.
However, I do not like to make assertions based upon feeling alone, so let's break down the arguments and analyze them to see what the superior approach is.
My Hypothesis:
Russell Westbrook should only play alongside James Harden, because when they are on the floor together:
Russ gets more opportunity to play in space with open lanes to the basket, due to the defensive attention that Harden draws
Russ is one of the best outlets for a Harden double team or trap, able to use his speed and gravity to put force on the rim and dot passes out to open shooters
Russ gives Harden easier looks out of his transition plays off missed baskets and turnovers, where defenders have to scramble to defend him and can't set easily against a Harden ISO
When Westbrook and Harden are off the floor, there are also benefits:
You do not waste possessions with Westbrook trying to isolate against a set defense designed to stop him, such as a trap/zone.
You give more possessions to Eric Gordon, who's isolation possessions have been more valuable than Westbrook this whole playoffs.
You give Jeff Green and Austin Rivers more opportunities to handle the ball and create surrounded by shooters.
What do the statistics tell us?
First, let's take a look at how the Rockets have performed this playoffs with and without Harden/Westbrook.
This would seem to indicate that in the playoffs, the Rockets would be better off allocating more minutes to the lineups with Harden and Westbrook together, more minutes to the linups with neither Harden or Westbrook, and completely dropping the Westbrook-only minutes.
I would understand if you looked at this and felt that it was a bit of small-sample size theater so let's see how those stats played out over the course of the regular season, after the Capela/Covington trade.
It appears that the trend holds up, except the non-Harden/Westbrook minutes were much worse over the season. As you can see, there were only 40 such minutes with Gordon on the court. The bench mob as we saw against the Thunder is a recent phenomena.
Game 2 was a good illustration of the issues above.
The results were about as exaggerated as you could possibly imagine:
The Westbrook issues were ridden with turnovers, leading to easy transition by the Lakers. When Westbrook picked up his 5th foul, D'Antoni kept him in. Westbrook was targeted on the next several plays, and while trying to avoid another foul, the Lakers scored on 5 of 6 possessions and went on an 10-2 run.
I charted every play in last night's game. There were 18 offensive plays that Westbrook was on the court without Harden. As I show above, the Rockets scored 15 points on those plays. 4 of those plays were turnovers by Westbrook and the Lakers scored after every single turnover.
The problem was obvious — when Harden was off the court, all of the defensive attention was on Westbrook and there were no driving lanes for him to take. It ended in a lot of out of control shots and passes, such as the one in the video below.
Compare those looks to the types of looks he gets with Harden on the floor:
Maybe, your concern is that the bench unit will not have enough scoring punch with Harden and Russ off of the court.
First, they can't be much worse, if we are being honest.
Second, I don't think the data would suggest that. The data says we should be giving more possessions to Eric Gordon. Look at Game 2:
Gordon needs to initiate the offense more. Russ not playing with the starters also lets Jeff Green, Austin Rivers, and Danuel House unlock more of their offensive potential. As we saw in the Thunder series, you just need a little bit of contribution from each of them to get where you need to go.
Green has been hurt by not being able to showcase his skills creating and ballhandling in the P&R. Rivers has been hurt by playing with another non-shooter and seeing clogged lanes. Both will improve playing without Russ on the court.
In conclusion,
In this series in beyond, I would like to see Russ and Harden play together more and let the bench units play without Russ.
If all of the stuff above I showed above is just statistical hogwash, at the very least least it would let Russ get more comfortable and confident, with the wide open looks that he gets playing along Harden. He could parlay that confidence into future series where he could go back to his prior role.
---
If you appreciate the consistent digital and podcast breakdowns, analysis, speculation, guest voices and camaraderie of our team, please consider one of our monthly Patreon subscription options available here.
While covering hoops is our collective passion, passion unfortunately doesn't help keep the lights on.